Shopping Basket
Your Basket is Empty
There was an error with PayPal
Click here to try again
Thank you for your business!
You should receive an order confirmation from Paypal shortly.
Exit Shopping Basket
Maryland Licensed Tree Experts

| | |
| --- | --- |
| Posted on 24 March, 2016 at 0:10 | |
Spring is officially here and one of the first signs confirming that is the lovely persistent yellow blooms of the Forsythia. The yellow blooms seem to appear overnight and are often one of the very first pops of color in a landscape that has been otherwise lacking all winter. A common shrub in our area the Forsythia is a member of the Oleaceae (Olive) family which includes 24 genera and more then 600 species occurring in a wide variety of habitats world wide. Most species in the family have bisexual flowers of white or yellow. The most well known member of this family is the Olea europaea, the source of the edible olive and the oils that are extracted from it's fleshy pulp.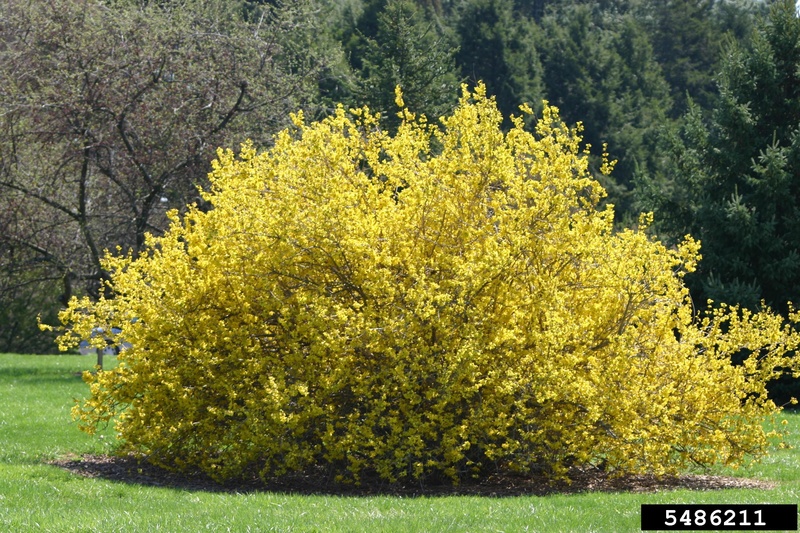 Image Citation: Denise Ellsworth, The Ohio State University, Bugwood.org

Forsythia have opposite, simple leaves that are ovate to oblong-lancelolate in shape, they are usually only 3–5" in length. The medium to dark green foliage is coarsely toothed along the upper half of the margin. The flowers appear in early spring and are a bright yellow in color, they are made up of four petals that are joined at the base. It is believed by many that Forsythia flowers are able to produce lactose (milk sugar), though this has not been confirmed scientifically. The fruit is a dried capsule containing winged seeds. The name Forsythia is derived from the horticulturist William Forsythe, English/Scottish botanist who was royal head gardener and a founding member of the Royal Horticultural Society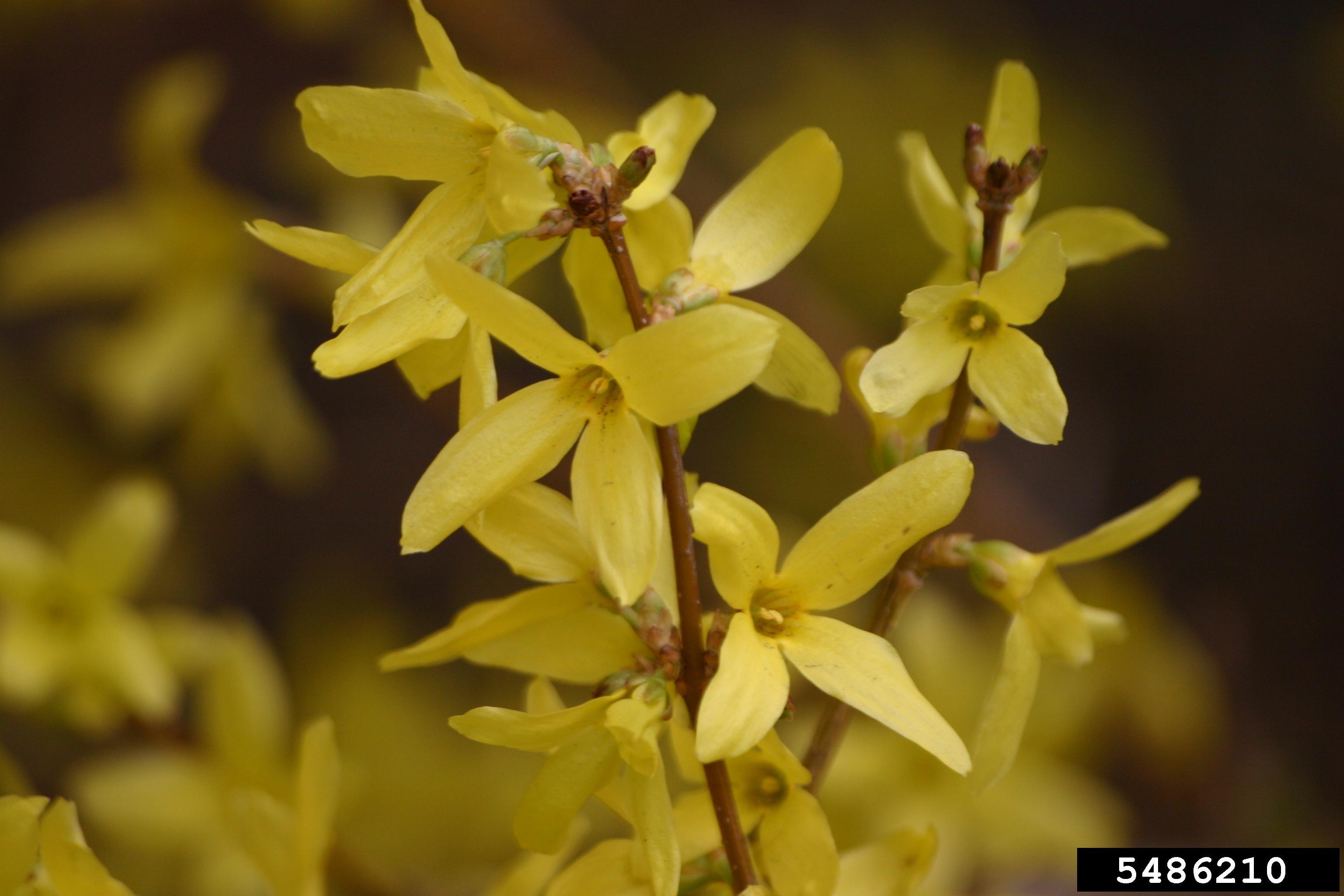 Image Citation: Denise Ellsworth, The Ohio State University, Bugwood.org
Forsythia can be planted as a specimen shrub but are most often planted in groups or rows to form hedges. Recommended for hardiness zones 5-8, they grow well in acidic, alkaline, loam, moist, rich, sand, silt loam and well drained soils. They are fast growing deciduous shrubs that can range in height from 3-10 feet tall. Forsythia prefer full sun or partial shade, a minimum of 4 hours of direct sunlight daily. It is recommended that they be pruned just after blooming to achieve the best results, though naturally they tend to grown in a rounded shape limiting the need for shaping. The graceful branches tend to form a upright sweeping form. They are also well suited for planting within cities or urban areas as they are tolerant to air pollution. Take care and plan ahead when planting Forsythia as these fast growers can gain as many as 24 inches each year and should be planted 4-6 feet apart. They are readily available at most nurseries and home improvement/garden centers.
Meet more trees and shrubs on our website at www.ArundelTreeService.com or follow our blog www.MeetATree.com
Categories: Shrubs, Ferns and Flowers , Meet A Tree
/