Shopping Basket
Your Basket is Empty
There was an error with PayPal
Click here to try again
Thank you for your business!
You should receive an order confirmation from Paypal shortly.
Exit Shopping Basket
Maryland Licensed Tree Experts

| | |
| --- | --- |
| Posted on 4 November, 2015 at 13:45 | |
The Asian Longhorned Beetle - Anoplophora glabripennis (ALB) is a serious pest from China, it has made it's way to the United States and has been observed attacking our trees. This beetle's larvae tunnels into trees, causes girdling of stems and roots, repeated attacks can lead to die back usually beginning with the crown of the tree and eventually the entire tree. It is thought that the Asian Longhorned Beetle traveled to the United States inside solid wood type packaging material from China, it has been intercepted at various ports through the country. Within the United States it appears that this beetle prefers trees in the Maple species (Acer), such as Red, Norway, Silver and Sugar Maples and Box Elders. They have also been found on Birches, Buckeyes, Horse chestnut, Willows and Elms.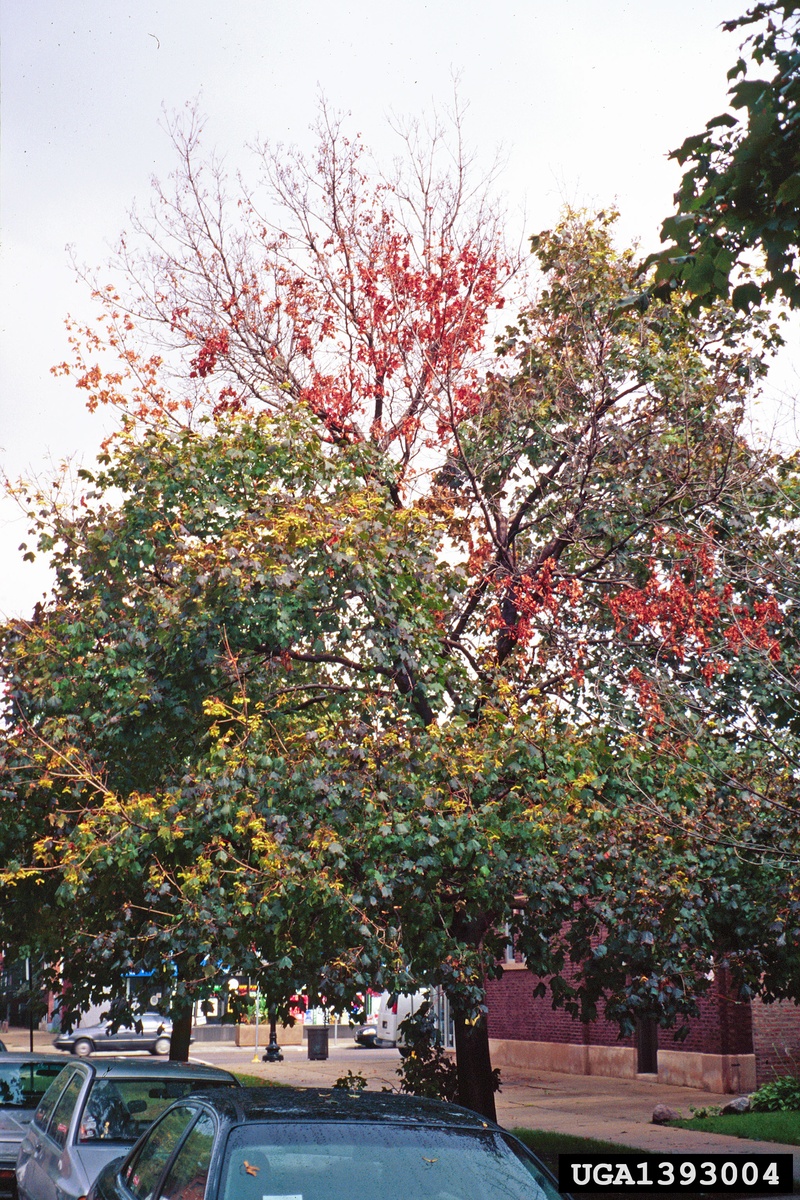 Photo Citation (Infestation/Tree Damage) Dennis Haugen, USDA Forest Service, Bugwood.org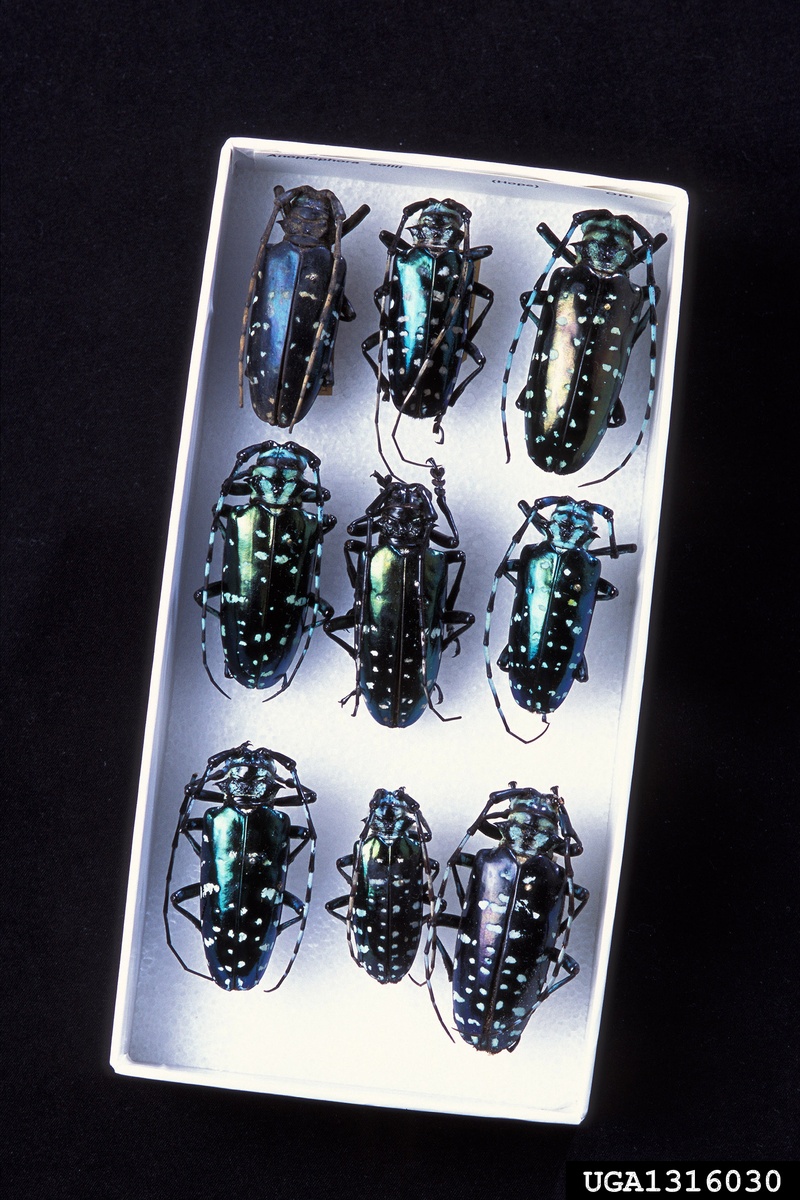 Photo Citation (Adult ALB) Peggy Greb, USDA Agricultural Research Service, Bugwood.org

The ALB are unique in appearance and quite easy to spot. Adults have a deep black bodies with white spots on the back. They are 3/4 - 1 1/4 inches long and have very long antennae that are usually 1 1/2 - 2 1/2 times the actual length of their bodies. The antennae are clearly marked by white bands or stripes on each segment. The egg laying sites within a trees bark is generally oval or round and are chewed out by the female beetle before she deposits a single egg into each. Some trees- Maples most notably, will ooze sap from the egg laying sites as the larvae feed inside during the summer months. Around the base of infested trees there will be an accumulation of coarse sawdust usually found at the point where the branches meet the trunk, this sawdust is caused from the larvae boring into the tree, stems and branches. When the adult ALB finally exits the tree it leaves a large round hole that is about 3/8 of an inch in diameter on branches or trunks. ALB only have one generation per year and adult beetles are usually only found from July - October. A female can only lay 35- 90 eggs in her entire lifetime and eggs can hatch in 10-15 days. The larvae will live under the bark and continue to feed within the tissues of the tree, they then bore deep into the tree to pupate. The adults emerge from pupation sites by boring tunnels in the wood and creating round exit holes.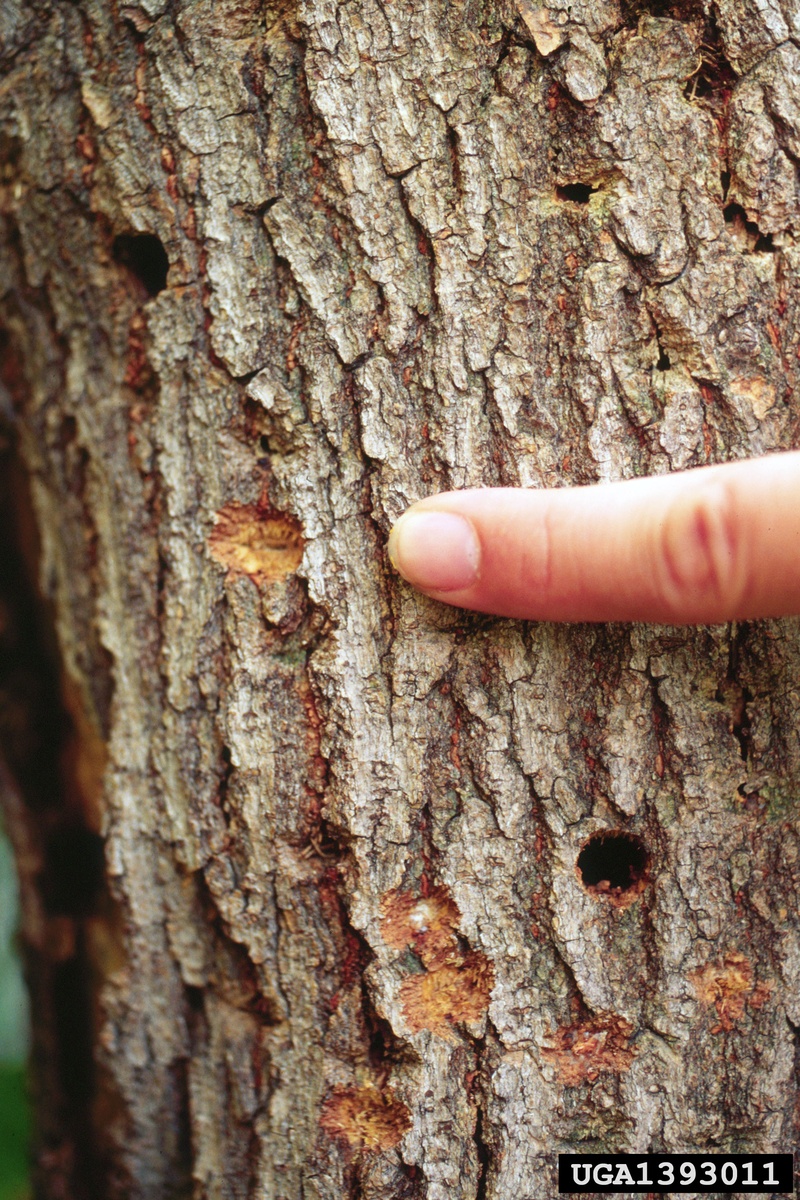 Photo Citation (Entrance and Exit Wounds) Dennis Haugen, USDA Forest Service, Bugwood.org


 

Currently in the United States the only way to eliminate the pest is to remove infested trees and destroy them by chipping or burning of the material. There are many quarantines in effect around the country to help prevent further spread of the insect (and other insects). As with most pests early detection is the best defense allowing for rapid treatment/removal, this is the only way the pest can be truly eradicated from an area.

 

If you suspect that the Asian Longhorned Beetle is in your area it is asked that you collect an adult beetle in a jar and immediately notify officials in your area. You can contact your State Department of Agriculture, Forest Service, State Forester, Department of Natural Resources, or State Entomologist. You can also call toll free to 1(866)-702-9938 . To learn more about the ALB you can visit: www.na.fs.fed.us/fhp/alb/ or www.aphis.usda.gov/plant_health/plant_pest_info/asian_lhb/index.shtml




Meet More Trees and learn about their pests on our website www.ArundelTreeService.com  or our blog  www.MeetATree.com

Categories: Save Our Trees - Fundraising & Causes, Diseases & Pests

0

/