Shopping Basket
Your Basket is Empty
There was an error with PayPal
Click here to try again
Thank you for your business!
You should receive an order confirmation from Paypal shortly.
Exit Shopping Basket
Maryland Licensed Tree Experts

Melaleuca, Melaleuca quinquenervia, is most easily recognized by the combination of whitish peeling bark, white bottle brush shaped inflorescence and narrow 5 veined leaves. It is an evergreen tree that reaches heights of between 50-90 feet tall. Generally growing in an erect form with a single trunk and narrow crown that is often open and irregularly branched. It is well established in hammocks, pine lands, disturbed woodlands and along roadsides mostly in Southern Florida and sparsely in Southeastern Louisiana. This variety originated in Australia and Melanesia.
Image Citation (In Bloom): Forest and Kim Starr, Starr Environmental, Bugwood.org
Melaleuca quinquenervia is considered to be one of Florida's top three invasive species. It covers thousands of hectares in tropical and subtropical regions. Eradication efforts have been largely unsuccessful due to it's aggressive growth and rapid establishment. It has even reestablished itself after forest fires that have wiped out all other growth.
Image Citation (Melaleuca Infestation):Randy Westbrooks, Invasive Plant Control, Inc., Bugwood.org
The leaves of the Melaleuca are alternate, simply shaped, slightly thickened and stiff. When crushed the leaves have a resinous odor when crushed, narrowly elliptic, or oblanceolate with a evenly tapered base and tip. The flower is bisexual with 5 tiny sepals and petals, white in color and circular shaped 2-3 mm broad, filaments are white. They are produced closely together, sometimes interuppted, internodal clusters 5-15 cm long, giving the appearance of a bottle brush. The fruit which occurs almost year round is a roundish or square capsule that is stalkless and crowded encircling the stem between leaf nodes, seeds are brown.
Meet more trees on our website www.ArundelTreeService.com or follow our blog http://arundeltreeservice.meetatree.com/
The Winged Elm - Ulmus alata, is a small to medium sized deciduous tree that reaches heights of less then 50 feet tall and usually not more than 1.5 feet in diameter. The Winged Elm has a generally wide, rounded crown that is made up of long slender branches many of which are winged with wide, cork like ridges on either side making the tree easier to identify.  It is sometimes also refferred to as the Cork Elm or Wahoo.  Winged Elm is common in the Southern portion of the United States and can be found easily from Virginia south through Florida and West through Texas.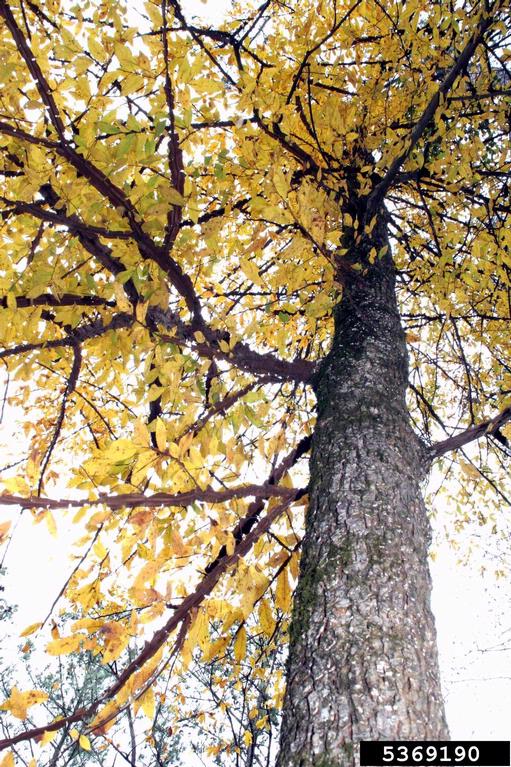 Image Citation: Joe Nicholson, Bugwood.org

The bark of the Winged Elm is thin, irregularly shaped, with rough flat plates, shallow fissures and light gray in color. When shaved or peeled back the bark will reveal thin bands f dark and off white thin inner layers. The leaves are 1.5-3 inches long and 1-1.5 inches broad, with evenly spaced coarse teeth that are divided by smaller thinner teeth in between. One side of each leaf is wider then the other, with the thin yellow vein appearing off center on each leaf. The leaves are a bright green in color and can be either smooth or rough on the upper surface, while the lower surface is always smooth.  In the fall the leaves turn a lovely bright yellow and sometimes a coppery brown.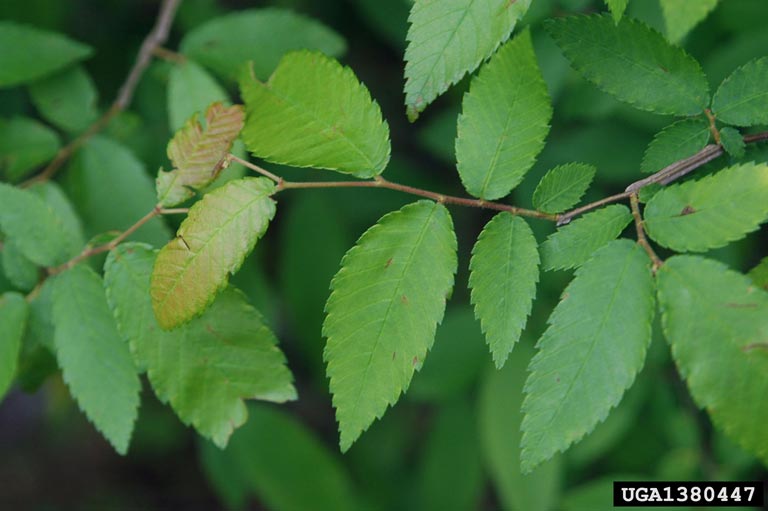 Image Citation: Chris Evans, University of Illinois, Bugwood.org

The Winged Elm is a small tree and can be used in both commercial and residential settings. Since it is a realtviely small tree it does not have value as far as lumber production is concerned. It is also not a desired firewood as the grain of the tree is interlocking and very difficult to split by hand. The Winged Elm has not been recorded to be affected by Dutch Elm disease, a disease that has been deadly to most Elm varieties. Recommended for hardiness zones 6a-9b.
Meet more trees on our website www.ArundelTreeService.com or follow our blog at http://arundeltreeservice.meetatree.com/
Sudden Oak Death (Phytophthora ramorum) - SOD (also known as Phytophthora canker disease), was originally identified in Germany and The Netherlands in the early 1990's on Rhododendrons . Since being discovered in the United States, it has been confirmed in forests from California, Oregon, Washington and British Columbia. The origin geographically of Phytophthora ramorum is unknown and before the early 1990's there were no reports in Europe or the United States. The areas that do exist in Europe and the United States are believe to have been originally transported from other areas or even the original site of origin. Phytophthora ramorum's very limited distribution related to the host's distribution suggests a more recent introduction versus a point of origin.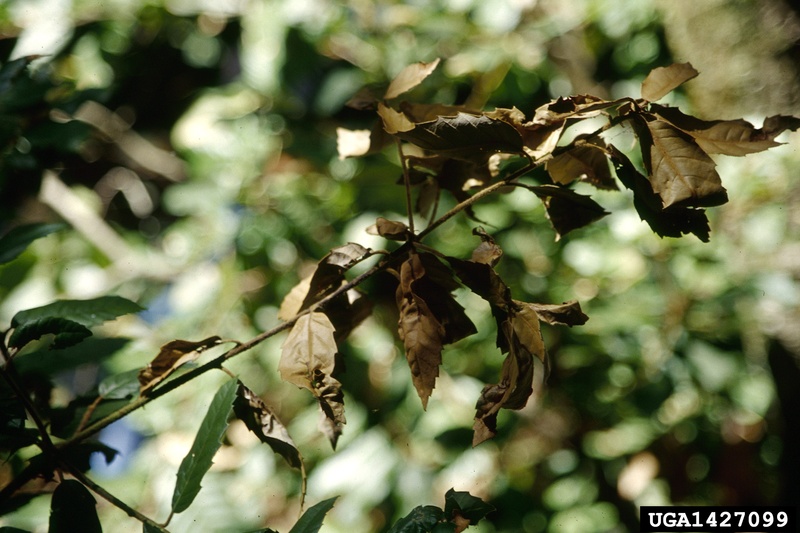 Image Citation: Joseph O'Brien, USDA Forest Service, Bugwood.org
Two types of disease are caused by Phytophthora ramorum, the first being bark cankers and the second being foliar blights. Bark cankers may eventually kill the host while foliar blights serve as a reservoir for the pathogen to remain within and be tranferred from the foliar host. The list of hosts (and foliar hosts) seems to grow with each new report and now includes Coast and Canyon Live Oak, Tanoak, California Black Oak, Coast Redwood, Douglas Fir, Rhododendron, Bay Laurel, California Buckeye, Madrone, Bigleaf Maple, Oregon Myrtle, Toyon, Honeysuckle, Arrowwood, Camellia, Californis Hazelnut, Mountain Laurel, Valley Oak, Poison Oak and Grand Fir. In lab testing it has been found that both Red and Pin Oaks are susceptible this opens up the potential for spread into the Eastern portions of the US as the Red Oak family is found in most of North America. In the field the White Oak family including the Valley, White and Blue Oaks have not been confirmed as hosts or even shown any symptoms- hopefully this means they are immune to Phytophthora ramorum or at least have a higher tolerance level.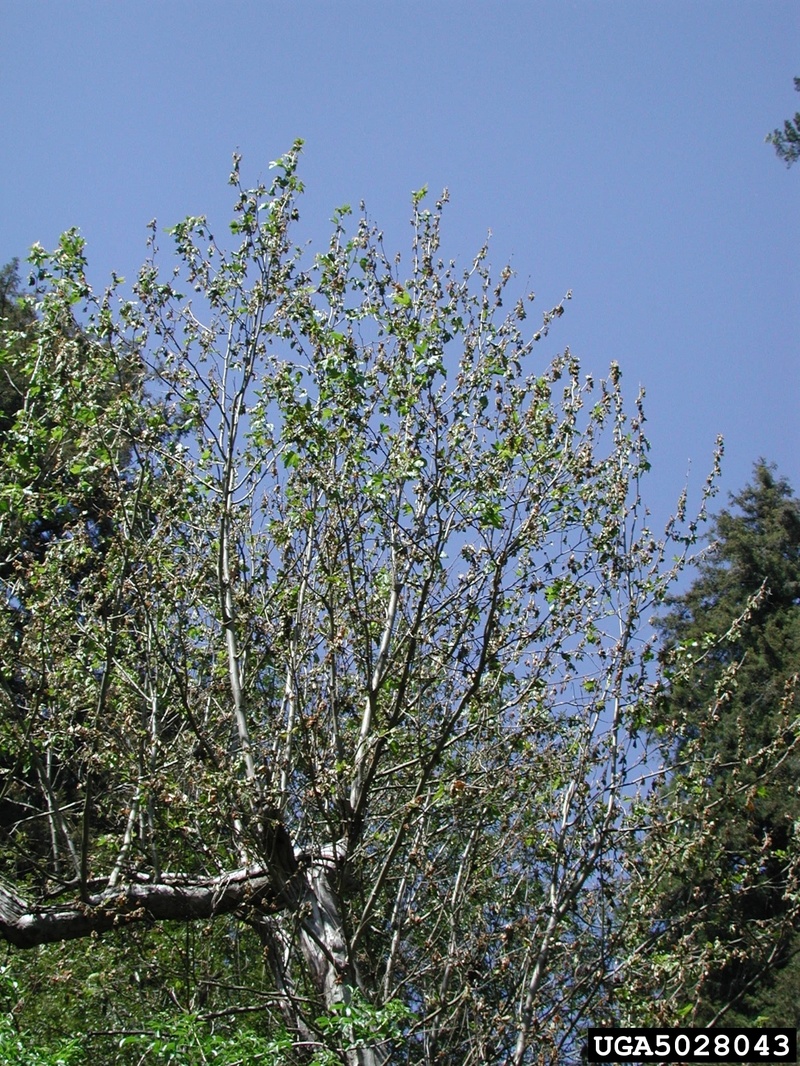 Image Citation: Bruce Moltzan, USDA Forest Service, Bugwood.org
As with many diseases of woody plants the spread of Phytophthora ramorum most likely occurs from contact with foliar hosts, infected material, soil transfer and spreading by rainwater. Windy, cool and moist conditions are also thought to aide in the spread of the pathogen by further dispersing the spores from their foliar hosts. Transporting (for nursery sale, wholesale or production) of foliar hosts may also aide in the spread of this disease making it harder to control.
The symptoms of Sudden Oak Death are easily identified by large cankers on the trunk or main stem, browning of the leaves or even death of the entire plant/tree. Some infected trees also become host to Bark or Ambrosia Beetles, or Sapwood rotting fungus-these outside organisms may speed up or even contribute to the death of the host. Foliar host infection os harder to identify and may not be noticed until it is to late. With a foliar host you may notice deep gray or brown lesions on the leaf blades, vascular tissues, petiole, or stems of the host.
Learn more about Oak trees and their diseases/pests on our Website www.ArundelTreeService.com or our blog www.MeetaTree.com
Oak wilt effects all Oak species, but has different results and signs with each group. Ceratocystis fagacearum is the fungal pathogen that causes Oak Wilt. It is a vascular disease, meaning the fungus is only found in the outermost xylem of the tree. This fungus is thought to be native of the Eastern US but the problems identifying and isolating it delayed the recognition of the true effects of the fungus until the 1980's. Oak wilt is a very aggressive disease, currently it is one of the most serious tree related diseases in the Eastern US-killing thousands of Oaks each year in both forest and landscape settings.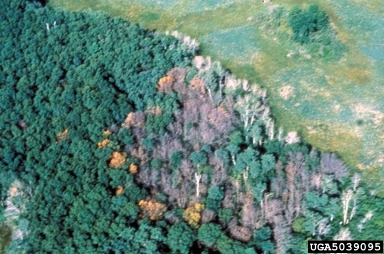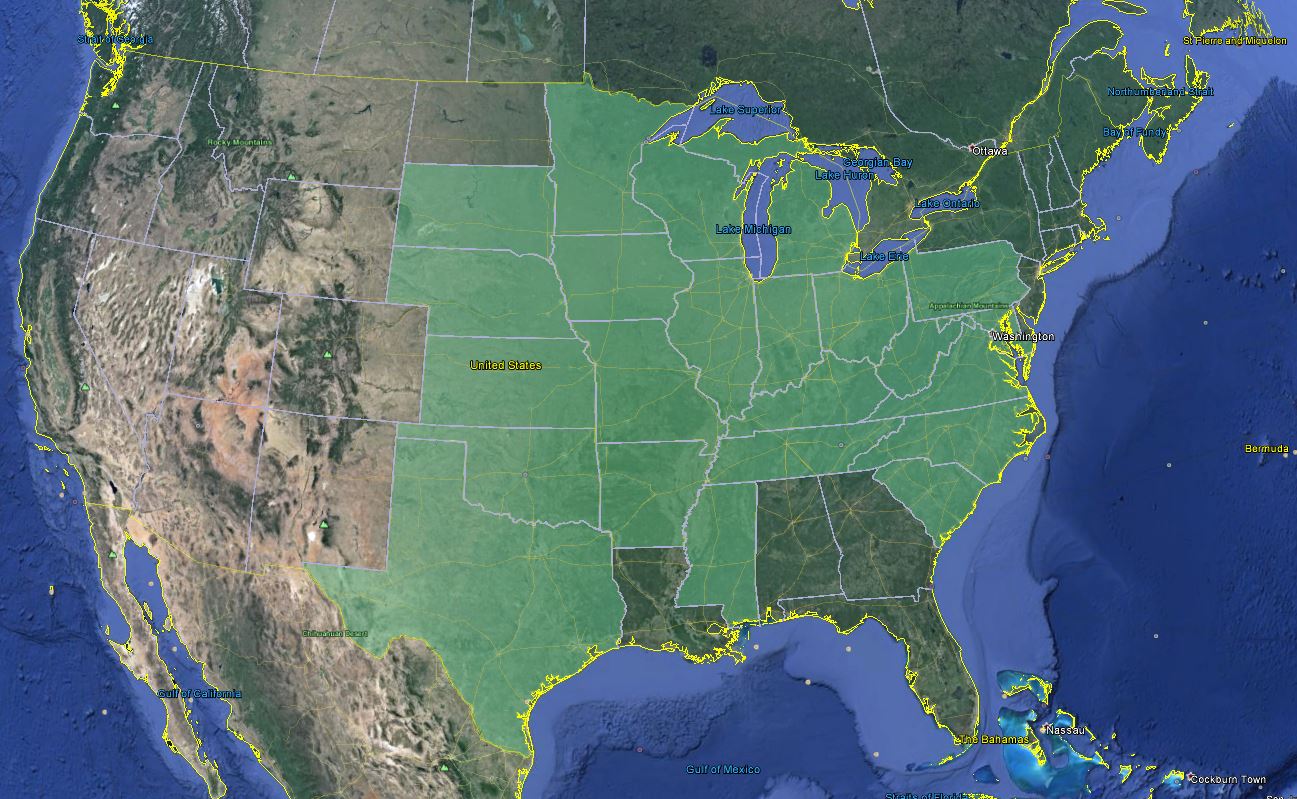 Oaks in the Red Oak family- such as Black, Northern Red, Northern Pin and others with pointed edged leaves are particularly susceptible and when infected usually die over the course of a single season-some declining to the point of complete defoliation in a matter of weeks. Infected Red Oaks will begin wilting from the top of the tree down, the leaves will gradually become bronze in color and fall off of the tree.
Oaks in the White Oak family- such as White, Swamp, Bur, or others with rounded edged leaves are less susceptible to Oak wilt and when infected can live for several years, losing only a few branches each season also from the top down. Symptoms in White Oaks are very similar to that of the Red Oaks.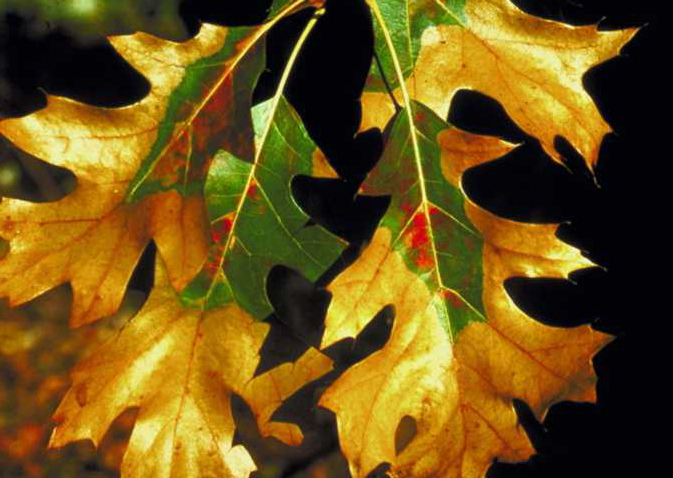 The Live Oak however is not so predictable, it's infection level and timeline is effected by many other variables in the environment. Usually however, Live Oaks infected will die within a six month period from the first sign of decline. Lives Oaks foliar symptoms differ from those of the Red and White Oak. An infected Live Oaks leaves will develop chlorotic veins that eventually turn necrotic prior to falling from the tree.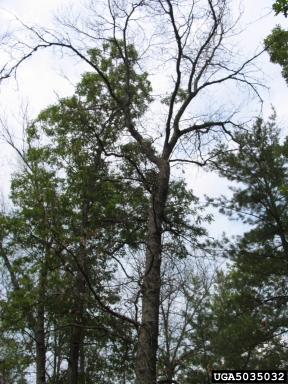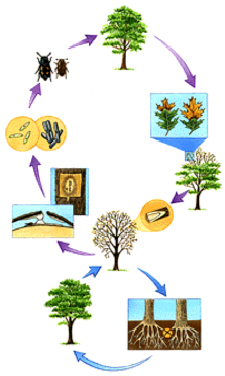 Oak Wilt fungus spreads in two basic ways. Spores can be transferred from an infected tree to a healthy tree by insect movement or The fungus can move from the roots of an infected tree to those of a healthy tree through root grafts
Oak Wilt is very similar to Dutch Elm disease but considered to be more controllable. On good factor to consider is the nitidulid Beetles that carry the Oak Wilt Fungus do not have chewing mouth parts, so in turn would need another creature or a damaged portion of the tree to make the transfer. This is different from the Beetles that carried Dutch Elm disease, they do have chewing mouth parts and are able to enter any tree without help.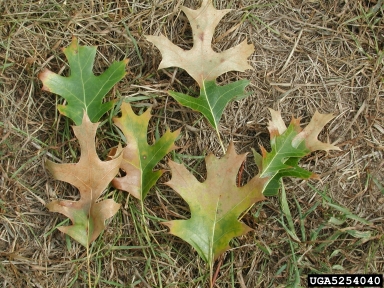 When an Oak has died from Oak Wilt, trees should be chipped and then burned or covered with plastic sheeting to speed composting. The heat from the chips composting should destroy or severely enervate the fungus. Logs from infected trees should never be moved to unaffected areas, even for use as firewood.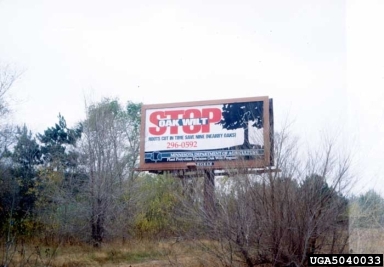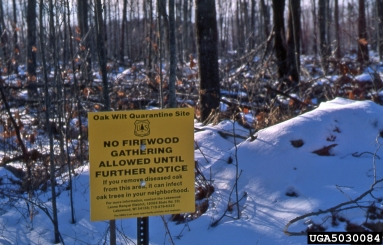 More at www.ArundelTreeService.com or www.MeetATree.com
Downloadable Oak Wilt fact sheets:
http://www.fs.usda.gov/Internet/FSE_DOCUMENTS/fsbdev2_043443.pdf
http://na.fs.fed.us/pubs/howtos/ht_oakwilt/identify_prevent_and_control_oak_wilt_print.pdf
Photos sources:
Joseph O'Brien, USDA Forest Service, bugwood.org (Photos# 1,3,4,6,7, &
Forestthreats.org with Google Earth overlay (Photo #2)
Wikipedia (Photo #5)
It is that time of year again where those mysterious little tents seem to form in our trees overnight. Have you ever wondered what they are and what they are doing in there?
Tent Caterpillars (Malacosoma) are a mid sized genus in the Moth (Lasiocampidae) family. There are species found in both North America and Eurasia. There are thought to be 26 different species (some having many subspecies), 6 of which occur in North America. They are considered by many to be pest as they have a nasty habit of defoliating trees. Tent caterpillars are considered to be one of the most social of all caterpillars often developing together within the same tent system. They are not only social but most often very colorful and are easily recognized by their silk tents built within the branches of host trees. Tent mates are often decided based on the foraging ability of each caterpillar. The Eastern Tent Caterpillar is the most common of the genus. Tent caterpillars hatch from their eggs in the early spring at the time the leaves of their host trees are just unfolding.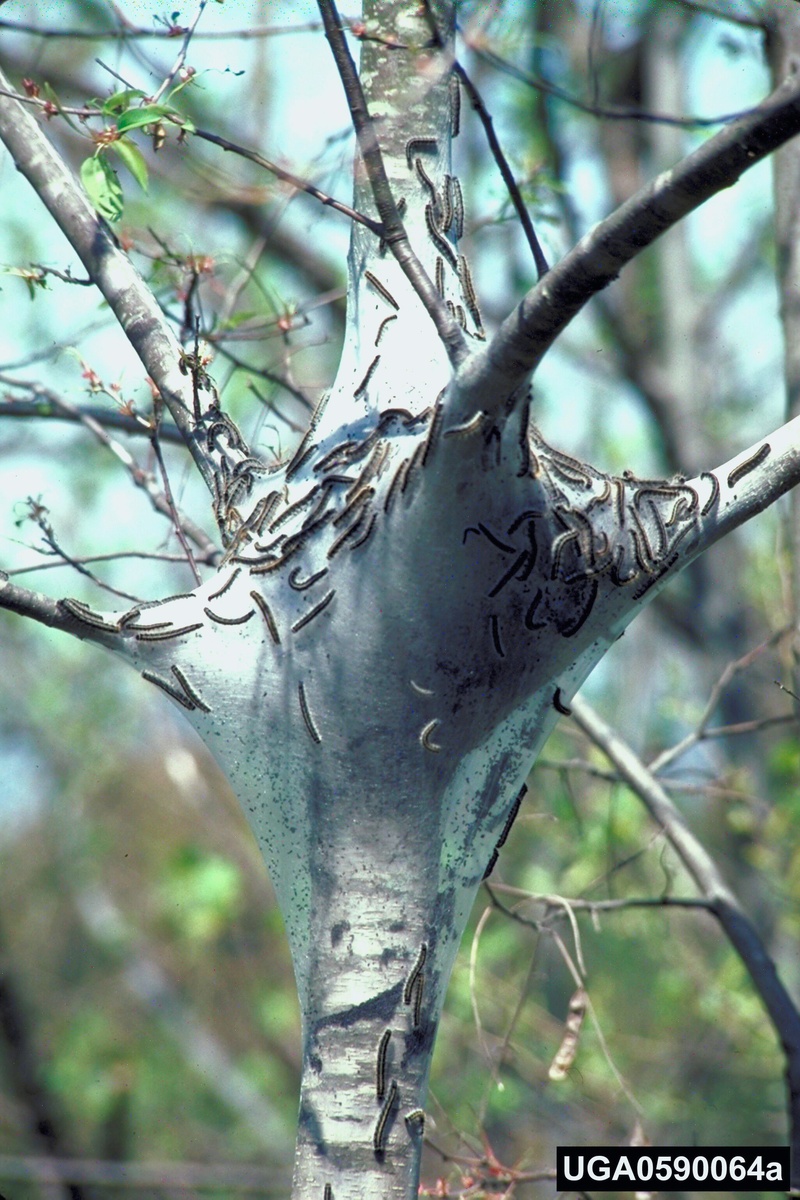 Image Citation: Robert L. Anderson, USDA Forest Service, Bugwood.org
Some species of Tent Caterpillar build one large tent that houses them throughout the larval stages, while others build a series of smaller tents that are abandoned sequentially throughout the stages. Tent caterpillars establish their tents soon after they eclose. They always make their tents within the nodes and branches of trees in a location that catches the rays of the morning sun. Positioning of each tent is very critical as the caterpillar must bask in the sun during the early morning hours to elevate their body temperatures. If their body temperatures dip below 59 degrees farenheit their bodies are not able to perform the simply process of digestion. Each tent is made up of layers of silk that are separated by gaps, each individual compartment temperature can vary noticeably. The caterpillar can move between compartments to alter it's body temperature as needed.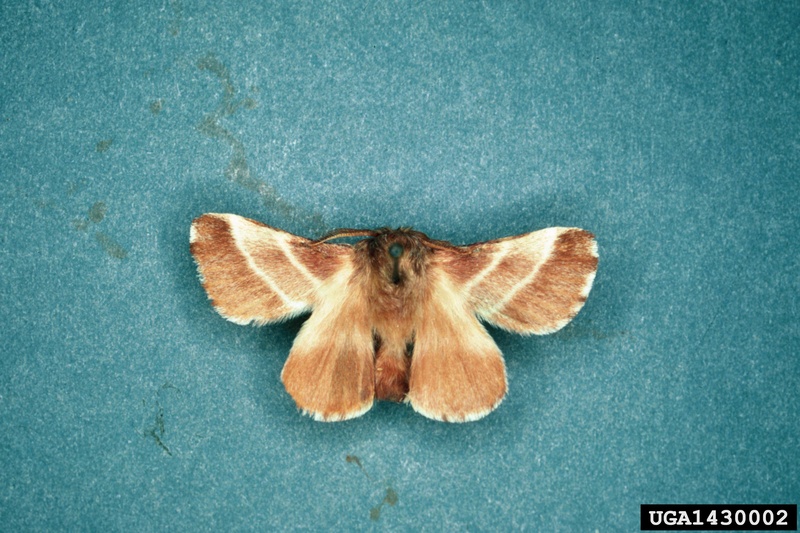 Image Citation: Lacy L. Hyche, Auburn University, Bugwood.org
Tent Caterpillars are foragers searching out food and feeding to the point of repletion, once it has reached that level it returns to it's tent. Along the way each caterpillar leaves a trail for other tent mates to follow to a good food source. The chemical trail left behind in often compared to that of the ant or termite. Their development is greatly in tune with that of their host trees, once the leaves of the host tree reach maturity they are no longer to feed from them. They feed multiple times a day based on the needs of that level of the larval development. They often leave the tent in mass, and move together to feeding sites.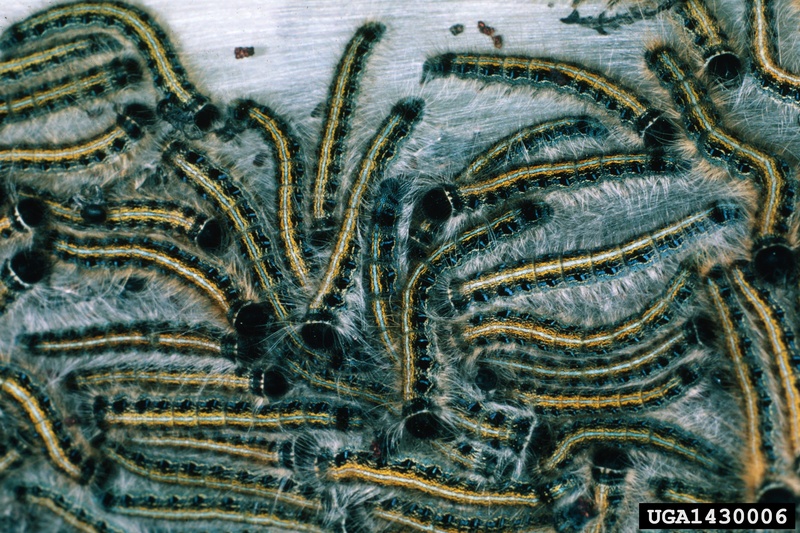 Image Citation: Lacy L. Hyche, Auburn University, Bugwood.org
Caterpillars grow at a very rapid pace and complete their entire larval process in a short 6-8 week period. Once they leave their tents they find a suitable location (often a protected area on the ground or a structure) to spin their cocoons. About two weeks after spinning their cocoons they emerge as adults moths. Shortly after this point the female moth excretes a pheromone attracting a male to her for the purpose of mating. After mating the eggs are then placed around branches and covered with spumaline, this material prevents the eggs from drying and protects them from parasites. Once the eggs are laid the female dies. The cycle of a female moths adult life may only last a short 24 hours while a male can live for a week or more. Within three weeks of egg laying, small larvae can be identified within each egg mass, these larvae will remain encased within their shells until the following Spring.
Meet more trees and pests on our website www.ArundelTreeService.com or follow our blog www.MeetATree.com
The Asian Longhorned Beetle - Anoplophora glabripennis (ALB) is a serious pest from China, it has made it's way to the United States and has been observed attacking our trees. This beetle's larvae tunnels into trees, causes girdling of stems and roots, repeated attacks can lead to die back usually beginning with the crown of the tree and eventually the entire tree. It is thought that the Asian Longhorned Beetle traveled to the United States inside solid wood type packaging material from China, it has been intercepted at various ports through the country. Within the United States it appears that this beetle prefers trees in the Maple species (Acer), such as Red, Norway, Silver and Sugar Maples and Box Elders. They have also been found on Birches, Buckeyes, Horse chestnut, Willows and Elms.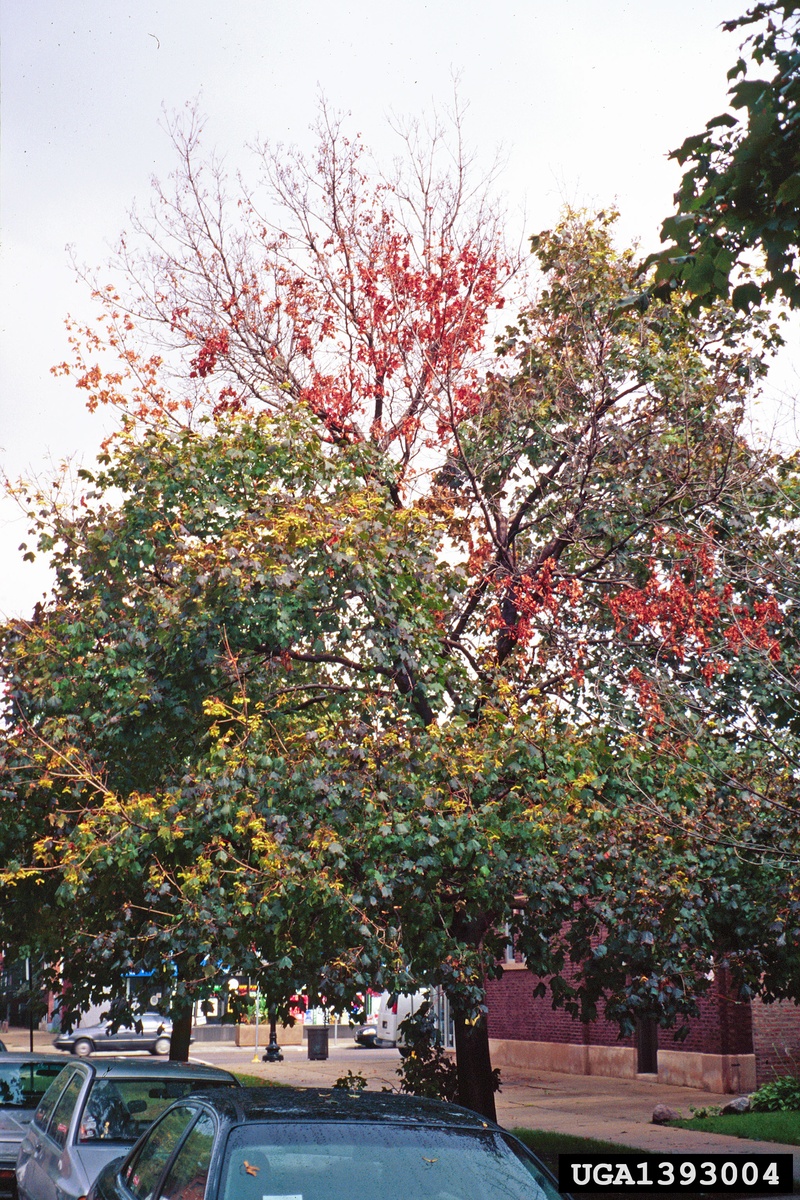 Photo Citation (Infestation/Tree Damage) Dennis Haugen, USDA Forest Service, Bugwood.org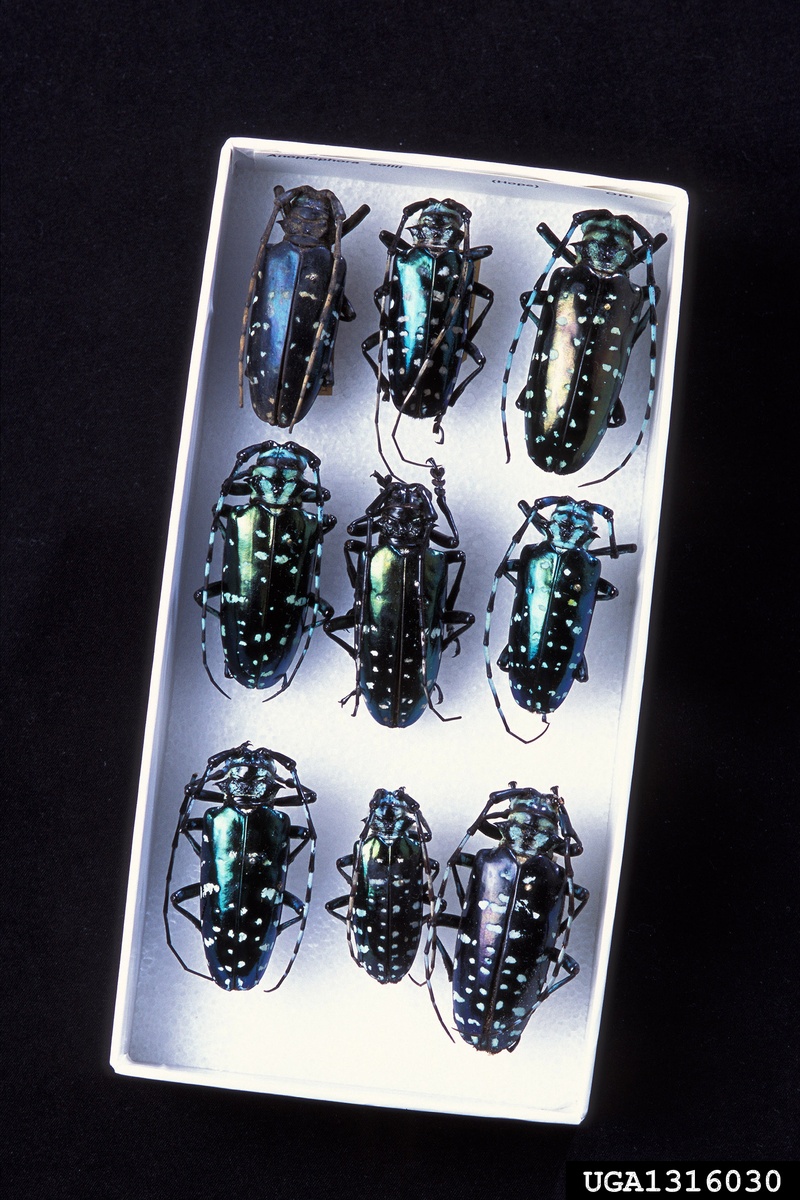 Photo Citation (Adult ALB) Peggy Greb, USDA Agricultural Research Service, Bugwood.org

The ALB are unique in appearance and quite easy to spot. Adults have a deep black bodies with white spots on the back. They are 3/4 - 1 1/4 inches long and have very long antennae that are usually 1 1/2 - 2 1/2 times the actual length of their bodies. The antennae are clearly marked by white bands or stripes on each segment. The egg laying sites within a trees bark is generally oval or round and are chewed out by the female beetle before she deposits a single egg into each. Some trees- Maples most notably, will ooze sap from the egg laying sites as the larvae feed inside during the summer months. Around the base of infested trees there will be an accumulation of coarse sawdust usually found at the point where the branches meet the trunk, this sawdust is caused from the larvae boring into the tree, stems and branches. When the adult ALB finally exits the tree it leaves a large round hole that is about 3/8 of an inch in diameter on branches or trunks. ALB only have one generation per year and adult beetles are usually only found from July - October. A female can only lay 35- 90 eggs in her entire lifetime and eggs can hatch in 10-15 days. The larvae will live under the bark and continue to feed within the tissues of the tree, they then bore deep into the tree to pupate. The adults emerge from pupation sites by boring tunnels in the wood and creating round exit holes.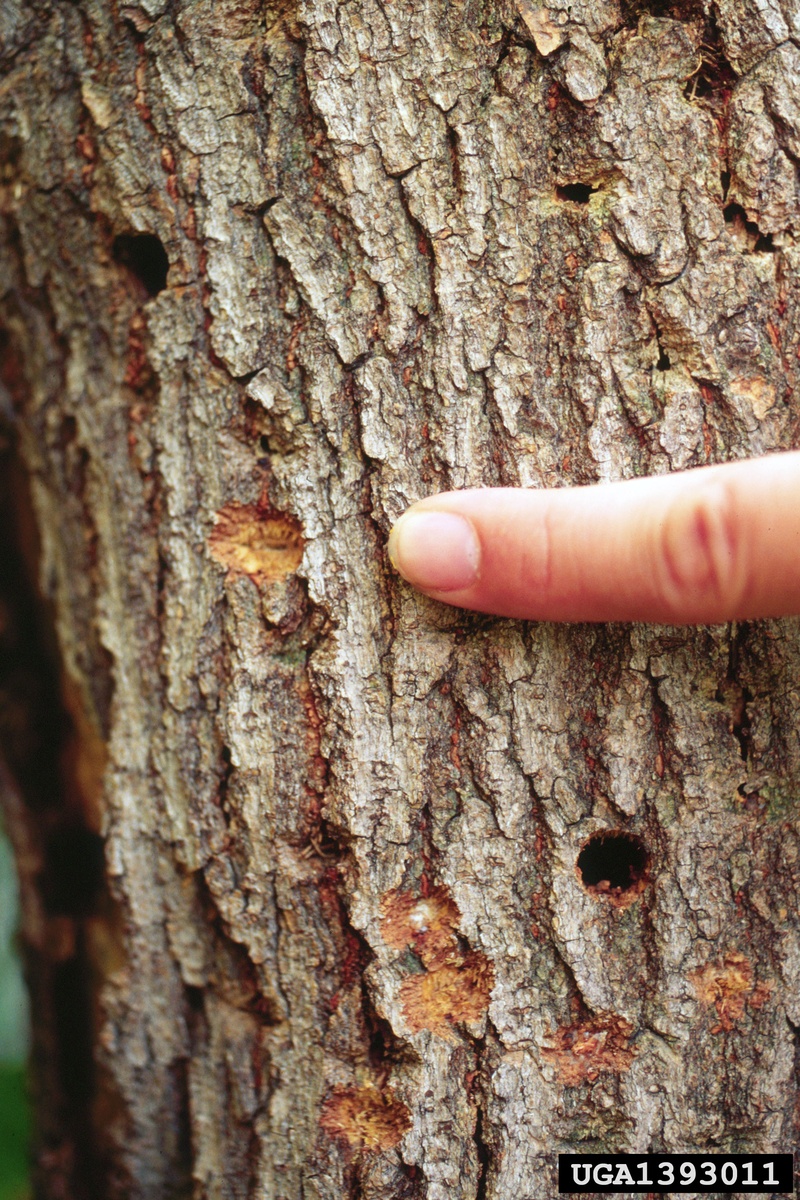 Photo Citation (Entrance and Exit Wounds) Dennis Haugen, USDA Forest Service, Bugwood.org

Currently in the United States the only way to eliminate the pest is to remove infested trees and destroy them by chipping or burning of the material. There are many quarantines in effect around the country to help prevent further spread of the insect (and other insects). As with most pests early detection is the best defense allowing for rapid treatment/removal, this is the only way the pest can be truly eradicated from an area.
If you suspect that the Asian Longhorned Beetle is in your area it is asked that you collect an adult beetle in a jar and immediately notify officials in your area. You can contact your State Department of Agriculture, Forest Service, State Forester, Department of Natural Resources, or State Entomologist. You can also call toll free to 1(866)-702-9938 . To learn more about the ALB you can visit: www.na.fs.fed.us/fhp/alb/ or www.aphis.usda.gov/plant_health/plant_pest_info/asian_lhb/index.shtml
Meet More Trees and learn about their pests on our website www.ArundelTreeService.com  or our blog  www.MeetATree.com
Question:
What is the oozing, foul smelling liquid coming out of my tree's trunk?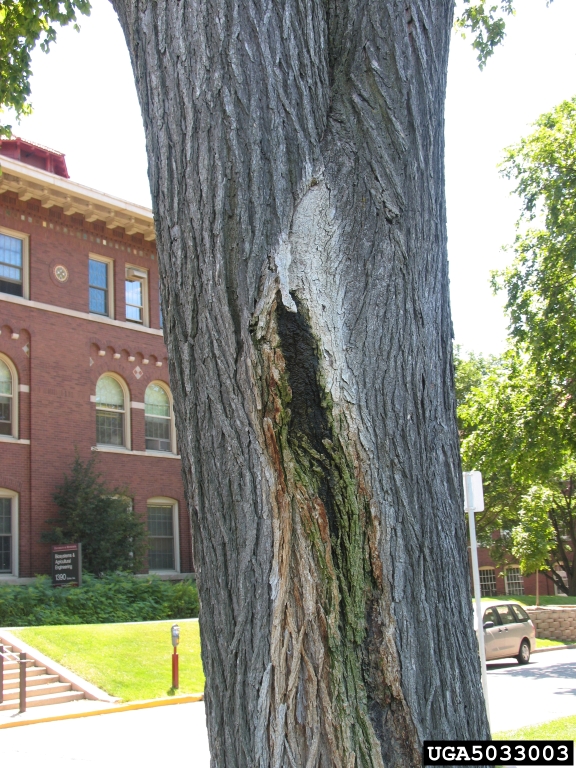 Image Citation (Photo 1): Joseph O'Brien, USDA Forest Service, Bugwood.org
Answer:
One of the main diagnoses of this would be Wet Wood -Enterobacter nimipressuralis -often called, Flux or Slime Flux. Flux is a slimy, oozy liquid, that more often then, not also has an offensive smell. It drips or "oozes" from tree trunks, crotches, cracks and branch crotches. It is most often seen on Oak, Elm, Birch, and Maple trees. This sap is more prevalent during Spring and Summer while the tree is actively growing. This sap/flux often attracts insects, contrary to many beliefs the insects are not the cause of the Flux they appear after the flux comes out.
Many different bacterial infections can lead to Flux. Most often these infections begin in the Heartwood or Sapwood of trees and are caused by soil inhabiting bacteria. Wet Wood causing bacteria can grow anaerobically (without oxygen) in internal tissue of wood. These infections on the inside of the trees structure lead to increased pressure on the vascular system. The pressure causes the excess fluid (sap/flux) to ooze out of any opening it can find, usually crotches, cracks in the bark, or even old wounds. When the flux/sap oozes out it leaves behind a White or Grey streak on the bark or branches or the tree.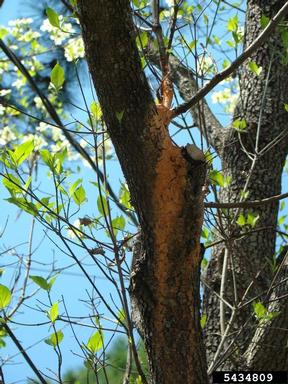 Image Citation (Photo 2): Rebekah D. Wallace, University of Georgia, Bugwood.org
Flux/Wet Wood infected trees have internal wood that is wet but not necessarily decayed. The infected portions of the tree will also have a higher pH level then the rest of the tree. Wet Wood infection actually prevents decay from fungi. The spread of Wet Wood/Flux within a tree is limited by the trees natural defenses. Trees have a natural ability to heal themselves often times human interference can cause more harm then, good, this is very true with this type of infection!
There is no specific treatment for Wet Wood/Flux. It is important with any tree that is stressed to make sure you are properly watering (definitely not overwatering) and if necessary, fertilizing. Some recommend removing dead or loose bark in the area of the wound to help keep the area dry. Others suggest creating a drain to allow the flux to ooze onto the ground instead of the bark of the tree, this also helps keep the area dry. It is recommend to NOT prune healthy branches on an infected tree as open wounds can lead to the spread within the tree itself. Deep fertilizing injections can also create new wounds and lead to spreading of the infection. Wet Wood does usually spread into new wounds and injuries so be careful around infected trees even when weed-wacking or cutting your lawn to avoid new injury.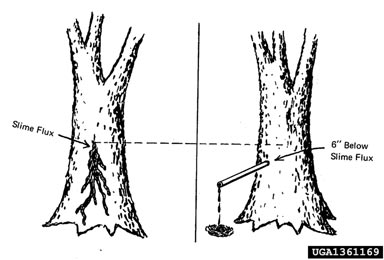 Example of a Drain - One recorded type of treatment
Image Citation (Photo 3): Tom Hall, Georgia Forestry Commission, Bugwood.org
Learn More Cool Tree Facts on our Website www.ArundelTreeService.com or our Blog www.MeetATree.com
/